IMVU APP
IMVU APP
24 May 2019 (by admin)
Dear Parents and Carers, we have been advised by GMP that they have been made aware of a concerning social media App which has recently come to light, and have been asked to share the following information with parents: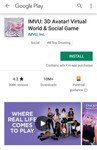 The app is called IMVU and is a social media app that allows players to generate an avatar and interact, socialise with other users avatars. The avatars do give away the users locations and the avatars appear to be child friendly but also appear quite sexualised in appearance.
As with a lot of social media apps not everyone are who they describe themselves to be and this leaves young people very vulnerable. This app has an age of 13 years and above however children of primary school age have accessed this app.
For further advice and information on Apps and their appropriateness for young people the NSPCC and partners have produced an internet site that can help parents decide what is appropriate for their children www.net-aware.org.uk
Unfortunately there are many apps or platforms that potentially can leave children vulnerable, my advice would be that parents should build up their knowledge of social media apps using sites like net-aware and be inquisitive as to what their children have access to on their phones, tablets and computers.
As with all of our online safety advice and guidance, it is important that we do not become overly fixated on any particular app or platform, as this may distort or disguise other potential online threats. As always, we encourage parents to ensure they are fully aware of the extent of their children's online presence and have regular conversations at home so that children apply the same caution to making contact online that they would in their everyday lives. School sends out regular advice and guidance for parents to support with online safety with every newsletter. Please do not hesitate to contact us if you would like any further support.
Kind regards,
Miss Anna Prior
Headteacher