Dress Down Friday (7th June) to raise money for Real Change
Dress Down Friday (7th June) to raise money for Real Change
4 June 2019 (by admin)
On Friday 7th June all schools are being encouraged to take part in a non-uniform day in return for each pupil donating £1 to Real Change Wigan and Leigh.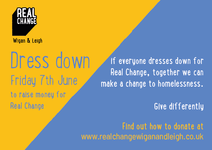 We would like our pupils to participate in this borough wide event.
Launched last year in the borough, Real Change is a charity which supports people who are homeless to rebuild their lives.
We hope you will support us in raising funds for this worthwhile cause. All pupils may come in non-school uniform on Friday 7th June and we ask in return that you provide a donation towards the charity – please send this money in with your child on the non-uniform day.
Thank you in advance for your valued support.