School Crossing Patrol - Recruitment Drive
School Crossing Patrol - Recruitment Drive
23 January 2020 (by ADMIN (admin))
The Wigan School Crossing Patrol team have requested the support of schools in the Wigan area with their recruitment drive for individuals to join their team.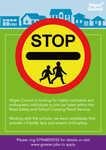 If any members of our school community are interested in finding out more about the opportunities available, staff from the Road Safety team will be holding an information and drop-in session in school on 12th February 2020, between 1 and 3pm.
There is currently a shortage of patrol officers, which means that schools like us in need of support are unable to receive it. Please see the attached leaflet (copy also in children's bags) for further information. If you are interested in finding out more, please do come along on 12th February. We hope to see you there.